Final Day of Global Church Network's Synergize 2022
January 29, 2022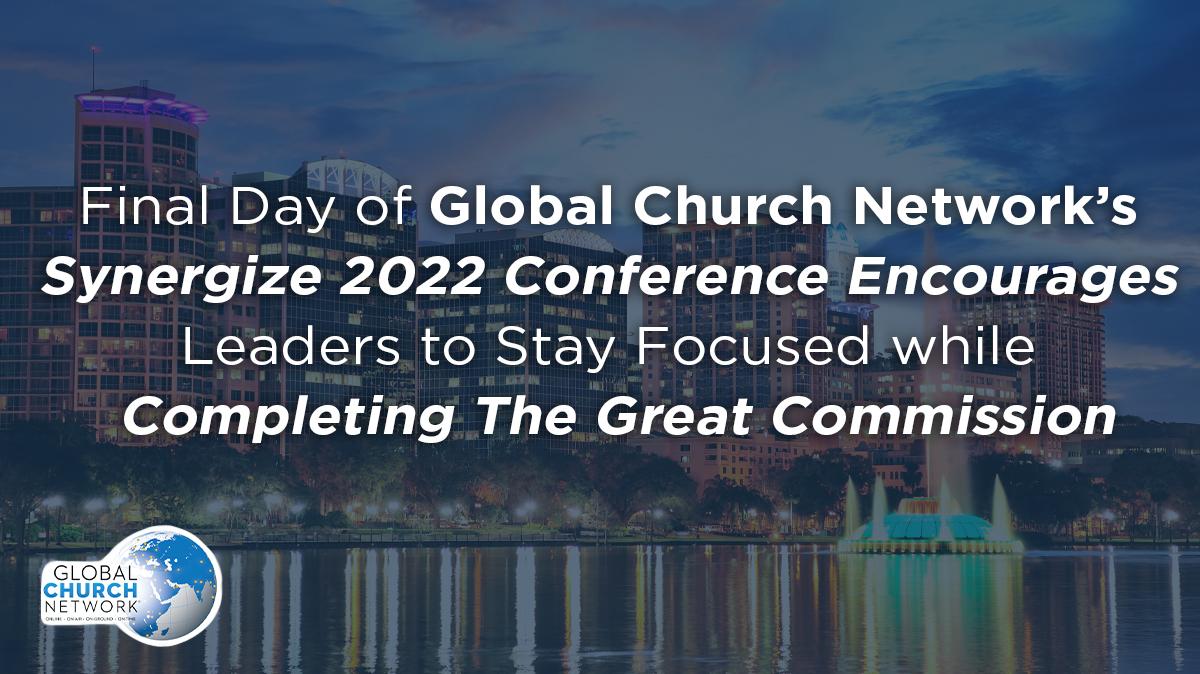 ORLANDO, Jan. 28, 2022 – The three-day bi-annual Global Church Network's (GCN) Synergize Conference wrapped yesterday in Orlando, Florida, with more than 650 attendees from 100 denominations and 60 countries. Thousands more from 45-plus nations watched online, and all were focused on FINISH 2030 with a goal to complete the Great Commission by 2030.
Reminders of the Task Ahead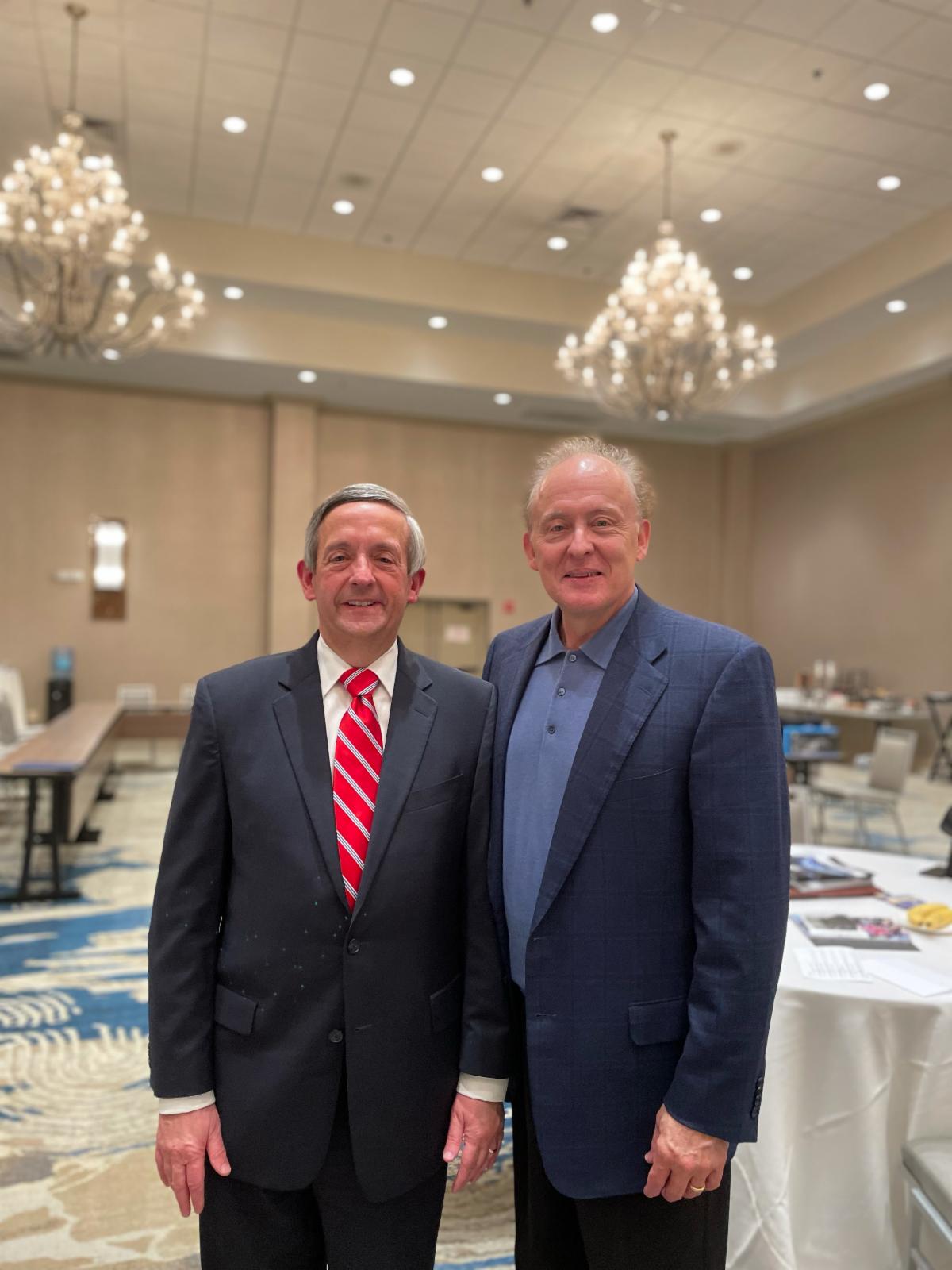 Bishop Sam N. Clements, General Overseer of the Church of God of Prophecy, opened the morning session of the final day by reminding attendees the Kingdom of God is not about physical comforts but rather "righteousness, peace and joy" in the Holy Ghost.
"It is time for us to join hands across denominational lines, and realize we are all a part of a greater Kingdom that is bigger than each of us and our personal kingdoms," said Clements after leading attendees in The Lord's Prayer. "It's time for us to build bridges instead of walls and to join hands and cry out to our God, 'Thy Kingdom come.'"
Clements continued by comparing the Pharisees' "religion," which focused on inclusivity for the select few and strict legalism, to the Gospel of Jesus Christ.
"Denominationalism is an insult to the Gospel of Christ as Jesus came to build bridges," Clements said. "In a world today marked by hopelessness, gloom and despair, the joy of Christ filling us is a testimony to a world living in darkness."
Dr. Robert Jeffress, bestselling author and Senior Pastor of First Baptist Church Dallas, challenged leaders to guard themselves as they commit to God's mission.
"What is the biggest hindrance to spreading the Gospel around the world?" Jeffress asked rhetorically. "It is not the global pandemic, government hostility nor racial disunity. I believe it is the self-destruction we are witnessing every day of God's servants who fall into sin and unbelief."
Jeffress identified four landmines of ministry into which leaders often fall – money, laziness, sex and self – and cautioned individuals from falling into any traps that will impede their ministry.
God is Moving Throughout the World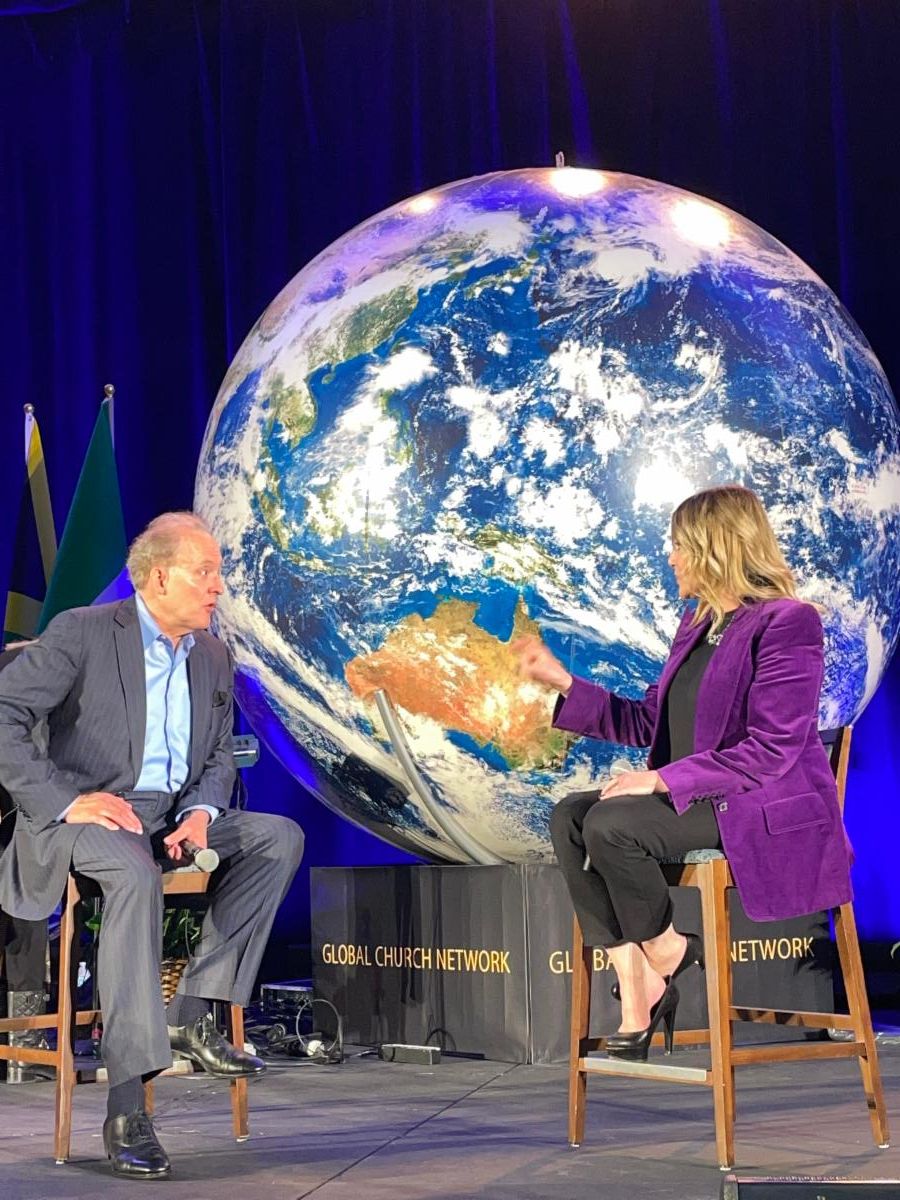 Dr. James O. Davis, president of the GCN and Cutting Edge International, gave a report on the progress of FINISH 2030 over the last 20 years, which has grown to include more than 2,600 denominations and represent nearly 700,000 local churches through discovery, development, distribution and deployment.
GCN has worked to support Global HUBS of Christianity to synergize the best people, systemize the best training, strategize for the unreached people groups and scriptualize for new Bible translations. Last year, 56 new HUBS were established around the world and the organization has the goal to establish an additional 37 in Europe, 35 in Asia and 22 in the Middle East over the next three years.
Encouragement for the Mission Ahead
The afternoon sessions began with moments of prayer, the first led by Robert Sterns, founder of Eagle Wings, for the state of Jerusalem in honor of the International Day of the Holocaust. Davis followed with a prayer for the people and the Church in the nation of Ukraine amidst escalating tension and troop mobilization and that God would do whatever is necessary to settle that situation.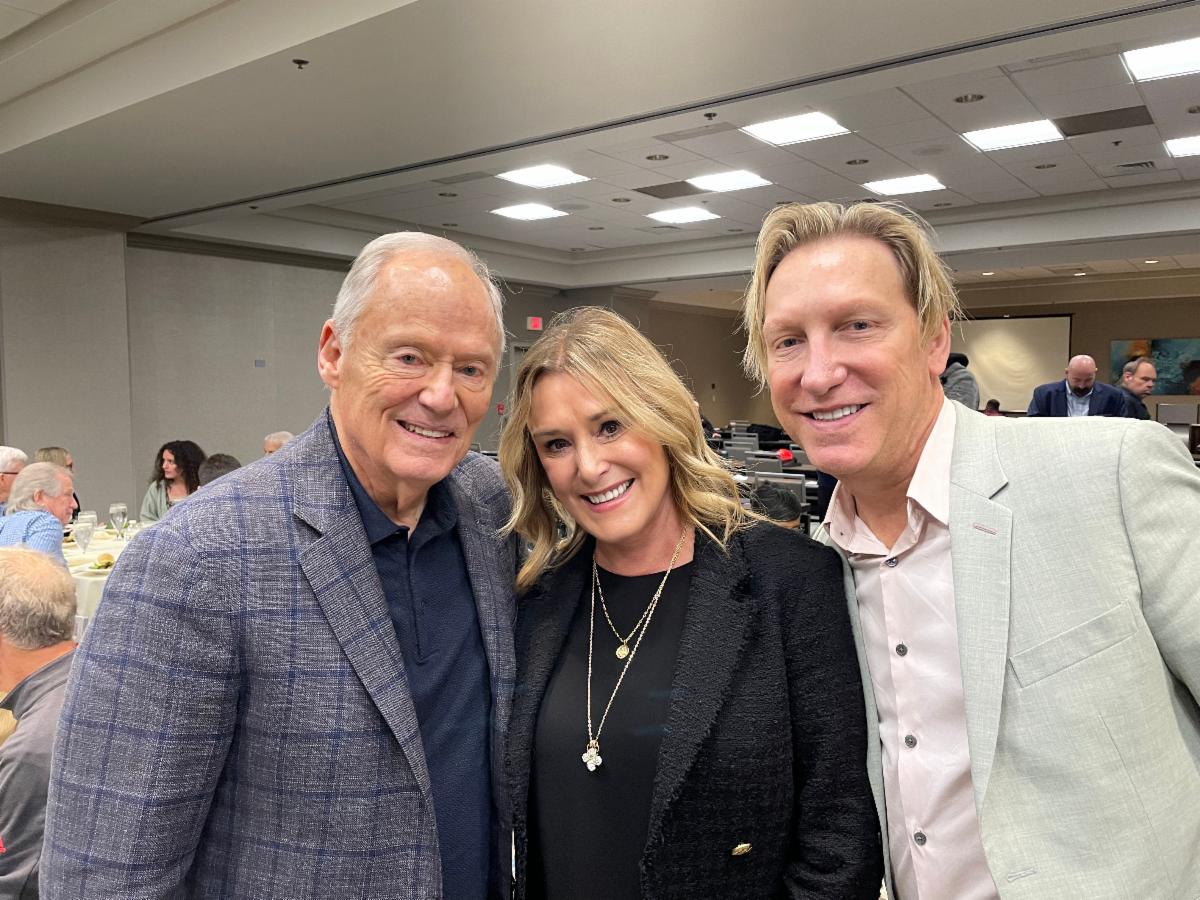 Dr. James Merritt, former president of the Southern Baptist Convention, founder and senior pastor of Cross Pointe Church, and host of "Touching Lives," shared lessons learned from the Battle of New Orleans in 1815, one of the greatest military conflicts ever fought.
"The battle saved New Orleans, kept control of the Mississippi and launched Gen. Andrew Jackson to the White House," Merritt said. "The only problem? The war was already over … it was a great battle, a great warrior and a great victory, but it was not a battle worth fighting."
Merritt then outlined five battles worth fighting for the Church – when there is a cultural rebellion we must confront, when there is a doctrinal recklessness we must condemn, when there is a scriptural revelation we must commend, when there is a personal responsibility we must complete and when there is an eternal reward we must consider.
Dr. Leonard Sweet, Vice President of Academic Affairs and Dean of the Theological School and E. Stanley Jones Professor of Evangelism at Drew University, and cofounder of the Global Church Divinity School (GCDS.tv) educated attendees about the New Testament Greek word "Sozo," first translated into English as "heals" by William Tyndale in 1526. While modern-day texts use the phrase "Jesus saves," the initial translation was "Jesus heals."
"We have to re-discover the original meaning of what it means that God is Jehovah, that we serve a healing God, and that the essence of the Gospel is that Jesus came to heal all of us," Sweet said.
Referencing the account of Shadrach, Meshach and Abednego in the Book of Daniel, Dr. Timothy Hill, General Overseer of the Church of God, reminded leaders of the evil that wants to remove from the Church today the same things that King Nebuchadnezzar tried to take from these three men – our posture, our purpose and our personality of faith. Hill encouraged individuals that when the heat is turned up they must remain convinced and not compromised, positive in the problem, worshipful in the worst and at rest in the resolve.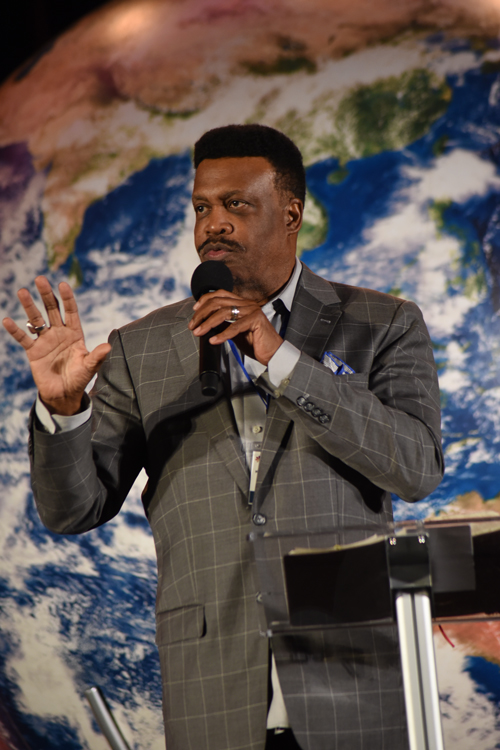 Closing out the conference, Bishop Kenneth Ulmer, senior pastor-teacher of Faithful Central Bible Church, charged the individuals in attendance and watching online that regardless of their title or position, they are called to be servant followers of Christ.
"We are being conformed to the image of Christ who came not to serve but to be a servant," said Ulmer. "If you are a servant like Paul says you are, you have one job – to keep on rowing under the deck of the ship. You are not in control of your destination, the pace or the speed; you may get tired and you may get weary, but God said your job is to keep on rowing."
Ulmer noted that each leader must personally walk out their faith, because God is calling every one of us to carry a cross in order to bring glory to His name. "The question is, 'Are you wearing your cross or bearing your cross? Is it an accessory or fashion statement, or a testament that you are following Jesus?'
"Your personal cross may be burdensome and painful," Ulmer continued. "Jesus' Cross is the emblem of suffering and shame but it is not the end of the story. Early Sunday morning He stepped out of that grave."
Synergize 2024
Synergize 2024 will be held in Orlando February 14-16, 2024. Confirmed and invited speakers including bestselling author and actress Candace Cameron Bure; Life Without Limbs Founder Nick Vujicic; faith influencer, Bible teacher and bestselling author Sue Detweiler; "Multipliers" author Liz Wiseman; A21 Founder and bestselling author Christine Caine; two-time World Heavyweight Boxing Champion and entrepreneur George Foreman; Communication Pathologist and Cognitive Neuroscientist Dr. Caroline Leaf; and "Atomic Habits" author James Clear, among others.
For additional information and to watch the Synergize 2022 Conference, visit synergize.tv.
Back To Blog