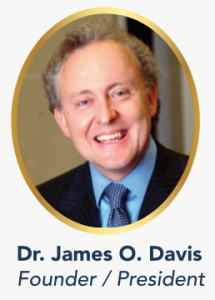 Dr. James O. Davis founded Cutting Edge International and co-founded the Global Church Network, a growing coalition of more than 2,400 Christian ministries and denominations synergizing their efforts to build the premier community of pastors worldwide to help fulfill the Great Commission by Finish 2030. The Global Church Network is the largest pastors network in the world. Christian leaders recognize Dr. Davis as one of the leading networkers in the Christian world. More than 80,000 pastors and leaders have attended his biannual pastors' conference and leadership summits across the United Launching & Coaching Spiritualpreneurials For Nonprofit Ministries States and in all major world regions. The Christian Telegraph, one of the largest Internet portals, named Dr. Davis in "Top Ten Christian Influencers In The World" and as "Leader Of The Year."
Over the last 35 years, Dr. Davis has traveled more than 10 million miles to 132 nations and ministered to millions of people.
As a visionary leader, Dr. Davis knows what it takes to develop and deploy successful dreams. Over the last thirty-five years, he has successfully launched:
• Cutting Edge International – Leading evangelistic ministry
• National Evangelists Office At The Assemblies of God Headquarters – Serviced
more than 1,500 evangelists throughout the United States
• Global Church Network – Largest pastors network in the world
• Global Church Divinity School – Trained more than 80,000 pastors & leaders
• Billion Soul Publishers – World-Class Publishing of Major Books
• Global Hubs Of Christianity – Developed and deployed 100 plus worldwide
• Synergize Pastors & Leaders Conference – 80,000 plus Christian leaders have attended from 2002–2020
Dr. Davis earned a Doctorate in Ministry & Preaching at Trinity Evangelical Divinity School, two Masters Degrees from the Assemblies of God Theological Seminary, and a Bachelors Degree in Bible at Central Bible College. As an author and editor, he has provided more twenty books.